Woven Gradience emphasizes color while merging in with the environment.
Woven Gradience's colors are both calming and stimulating, just like nature's. The vibrant pinks and tranquil emerald tones work well together. Rich terracotta blends seamlessly with calming aqua. Soft, peaceful grey tones ground each hue, allowing you to connect spaces and create bespoke locations for users.
Throughout its entire existence, Woven Gradience is carbon neutral.
Interface Hospitality allows you to create attractive designs.
Providing an outstanding experience for your guests is at the top of your priority list. Interface carpet and LVT flooring make things simple, with floor designs that promote health, make maintenance easier, and create beautiful interiors. Choose from a variety of configurable items, including Interface choices. And, if you're trying to make something truly unique, LuxciergeTM is here to help.
Interface, Inc. is a global commercial flooring company with an integrated collection of carpet tiles and resilient flooring, including luxury vinyl tile (LVT) and nora® rubber flooring. Our modular system helps customers create beautiful interior spaces which positively impact the people who use them and our planet.
Our mission, Climate Take Back™, invites other companies to join us as we commit to running our business in a way that is restorative to the planet and creates a climate fit for life.
We have well-being down to a science
Biophilic design – or design that connects us to the natural world – affects the way we feel, work and create. Design that connects us to nature is proven to inspire us, boost our productivity and even contribute to a stronger sense of well-being. Get an understanding of how by downloading our peer-reviewed Human Spaces reports.

Within these reports, you'll learn the why, how, what, when and where of intentional, impactful design.
The Latest Trends in Hospitality Design 
Beth Hudson
April 28, 2022
As travel and socializing begin again the demand for unique, adaptable hospitality spaces are increasing. Each hospitality interior tells a story. It provides a backdrop for guests to feel safe, comfortable, and inspired to make memories. Good design is pivotal to the success of a space. Here we explore four key trends we are seeing now that support the next generation of hospitality space design. 
The pursuit of health and wellness

Creating spaces that offer a comfortable, clean, relaxing experience are increasingly important. Businesses cannot have the same approach they had pre-Covid, because the demands and needs of guests have changed. Human-centred spaces are becoming a key focus, with guests' well-being at the top of the agenda.
People have never been more aware of their mental and physical health, especially when it comes to public spaces and travel. For hospitality designers this means designing flexible and adaptive spaces that guests find comfort in, where they feel relaxed and safe.
Adaptable areas
After so long being isolated from each other, people have missed social interaction and the freedom to travel. This presents the perfect opportunity for hospitality spaces to offer something new and exciting.
Guests expect a space that covers all their needs from comfort to practicality. If we explore hotel design – there is a lot more focus on adaptive spaces that accommodate a mix of work and leisure, health and wellness, as well as social experiences – all within one environment. We know to draw guests into a space and keep them coming back, the design has to connect with them.
Head over Heels M1032 – Sage
Taking inspiration from nature

Nature not only inspires great design, it offers comfort and a connection to our environment. From design, to colour, to material – nature's influence is often interwoven in the things that we create. With the rising importance of sustainable design, many of our hospitality clients are looking to nature to help create inspiring spaces for their guests.

Bringing nature inside, using design elements such as living walls, light, water features, and colours and textures that replicate nature is known as biophilic design. Nature inspired design has been proven to improve guest experience, offering comfort and assurance.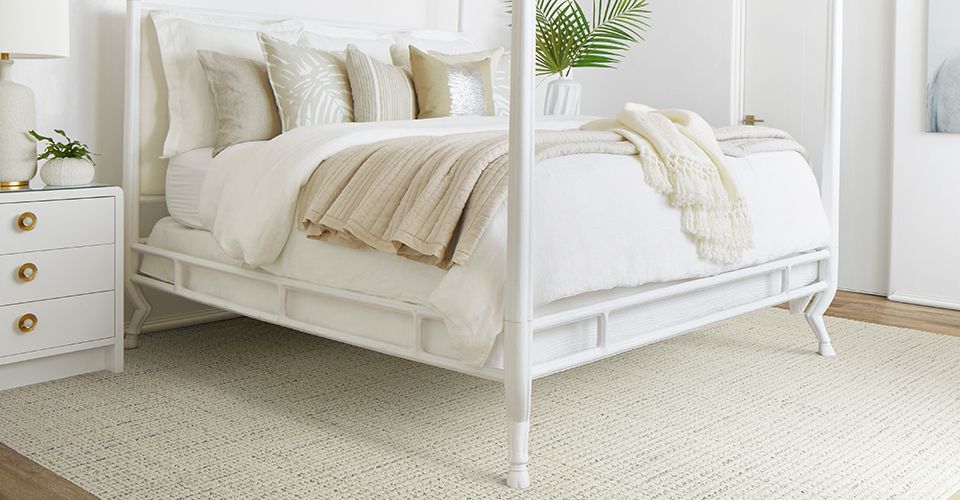 RMS607 – Ivory
Supporting the planet
Sustainable design is necessary for our future planet. The increasing awareness around sustainable business practices means that guests are now expecting assurances that the products they are using are responsibly created and sourced. Designers responding to these briefs are supporting their hospitality customers by exploring innovative ways to create and use energy, limit food waste, and select sustainable materials to furnish a space. There is a strong focus on 'adaptive reuse and repositioning' – working with what we have rather than building from scratch – very much mirroring the upcycle trend seen in home interior design. There isn't an easy solution, and there is a long way to go, but small steps make a big difference.

Drawing people back into hospitality spaces requires intelligent design that combines guest experience, comfort, and luxury together to create shareable spaces that offer guests the full package. From experience, guests don't always notice the effect that the design of a space has on them, but we know design impacts how guests feel. 

To inspire you we've created a collection specifically to support the hospitality industry.